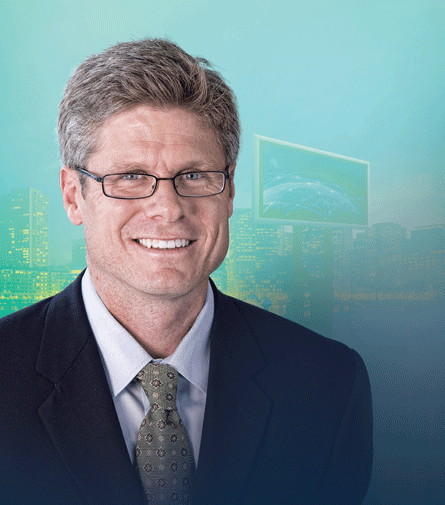 Steven Mollenkopf, CEO
As 21st century traverses into the realm of 'everything digital,' it is a widely believed that the world hasn't even scraped the surface of the barrel in terms of innovative potential of both existing minds and technologies. Every day, a new technological marvel makes its way into the mainstream, and each enhancement makes way for the development of more modern and more advanced technology. Spearheading this revolution of time is Qualcomm, a consortium of expert engineers, scientists and business strategists focused on a unified goal – to invent breakthrough technologies that transform the ways of how the world connects, computes and communicates.
While a significant portion of Qualcomm's breakthroughs resides "under the hood" of familiar technology, the company's inventions have transformed the world in a bigger way by helping propel mobile to the forefront of the technology world and bringing wireless innovations into new industries. Qualcomm has been instrumental in creating new opportunities for ecosystem players—the wireless device makers, the operators, the developers, and the content creators of the world. The wide range of inventions and breakthroughs accredited to Qualcomm have inspired fresh, new ideas flowing out of several large and small companies today across the globe.
Started as an idea, Qualcomm's conception is marked by an agreement made by seven individuals in 1985, who met in a den in San Diego for the purpose of creating "quality communications." Today, that den spans across more than 170 offices in more than 40 countries. The idea, however, remains the same. Influencing the creation of billions of devices and further enhancing the design of several more, Qualcomm's expertise can be witnessed everywhere from Smartphone in one's pocket, a tablet used by millennials, a wireless modem or even a navigation system that is installed inside the car — identified as pioneers and risk-takers, the makers of Qualcomm pride themselves as dreamers, inventors, rebels, and geeks. "We embrace those labels because, in many ways, they're true. We dream big. We invent bigger. And most importantly, we often do what many thoughts was impossible," says Steve Mollenkopf, CEO of Qualcomm.
THE AI WAY
AI is here today and is significantly behind reshaping industries and creating new possibilities. Gartner predicts that by 2021, AI augmentation will generate $3.3 trillion of business value. Creating new intuitive experiences and interactions. AI enables devices and things to perceive, reason, and act intuitively. Drawing inspiration from the human brain, AI will expand our human abilities by serving as a natural extension of our senses. It will also personalize our experiences through seamless interactions in our everyday life.
Qualcomm leads the market in making on-device AI ubiquitous. Today, as more intelligence moves to end devices, and mobile is becoming the pervasive AI platform, Qualcomm builds on the smartphone foundation and the scale of mobile, by expanding beyond mobile and powering other end devices, machines, vehicles, and things. The company envisions inventing, developing, and commercializing power-efficient on-device AI to make this a reality.

With over a decade of AI research and development, Qualcomm is creating essential components to scale AI across industries with an additional focus on efficient hardware, algorithmic advancements, and software tools. The company is engaged in diverse research and is keenly focused on power efficiency and personalization to make AI seamless across users' everyday experiences. The On-device AI processing offers several other benefits, including user privacy, faster response, enhanced reliability, and efficient use of network bandwidth. The pace, scale, and high integration that drive the mobile industry allows AI to scale to trillions of devices. The AI technology researched and developed by Qualcomm is fundamental across industries and products, spanning from smartphones and automotive to the IoT.

ENHANCING THE IOT

The IoT has enormous beneficial opportunities for customers and consumers. However, its evolution has been affected by product development challenges, such as rapidly changing requirements, consumer expectations, pricing, and heavy competition. As widespread consumer adoption of connected devices increases, so does the pressure on customers to create differentiated, high-end devices that are powerful, yet power-efficient, and interoperable yet highly secure. As the world moves towards the future of the Internet of Things (IoT), Qualcomm Technologies stands instrumental in helping customers commercialize their products faster and more cost-effectively using the company's optimized platforms in the areas of smart bodies, smart homes, and smart cities. The Qualcomm's scale and expertise in connectivity and compute puts it in a unique position to invent and deliver the technologies needed in IoT both for today and in the future. Qualcomm Technologies' comprehensive solutions approach provides the technology, tools, and relationships needed to help create and scale various ecosystems within the IoT, with smart platforms that reduce development times and cost. These solutions offer the connectivity, interoperability; security, and accessibility customers need to create innovative end products that provide more personalized services and new user experiences.

With the surge of connected devices comes the demand and necessity to implement security features for IoT devices. Qualcomm Technologies has a long heritage of providing mobile security solutions. Today, our security solutions are found in billions of commercial devices around the world, utilizing our proven mobile solutions for consumer and industrial IoT applications.

RULING THE FUTURE WITH SNAP DRAGON

For technology businesses or entities that strive to be at the forefront of every innovation, staying on top of the best technology, its accessibility, expertise, and experience is a huge differentiator. Ushering these modern fast-paced businesses into the future is the latest generation of Qualcomm® Snapdragon™ 8 Series Mobile Platforms supporting premium mobile experiences built on 5G, on-device artificial intelligence (AI), and extended reality (XR).
The platform is smart, powerful, and power-efficient, with new architectures designed to deliver worldwide connectivity, unimaginable performance, exceptionally powerful AI, future-forward photography, and breakthrough immersive entertainment. A Snapdragon 855 Mobile Platform harnesses the best in 4G connectivity and unleashes transformative 5G experiences, all while delivering an entirely new generation of Wi-Fi performance and innovation that offers the users multi-Gigabit connectivity. The users can enjoy blazing-fast responsiveness, superior speeds, increased capacity, lower latency, and enhanced security like never before.

The Snapdragon 855 Mobile Platform packs incredible amounts of data, powers super complex apps, delivers powerful intuitive experiences, and offers exceptional battery life for long, sustained performance and efficiency enabling users with more performance time while charging less throughout the day.

"Qualcomm has been delivering system-level wireless inventions that have fueled the mobile industry for over two decades"

Equipped with brand new accelerators and a revamped AI engine that's faster, smarter, more secure, and more aware, a Snapdragon 8 Series Mobile Platform-enabled device is designed to provide the user with revolutionary AI performance. From voice assistants to camera intelligence to XR eye and hand tracking, a Snapdragon 8 Series Mobile Platform innovates at a whole new level, serving as an ultimate personal assistant.

ACCELERATING GLOBAL 5G ROLLOUT

5G is the foundation of what's next. And Qualcomm stands as the foundation to 5G. Today, intelligence is primarily associated with the cloud, but as the cloud began to connect virtually everything around, intelligence needs to be scaled by distributing to the devices that form the wireless edge. 5G is the unified connectivity fabric in this new distributed computing paradigm at the wireless edge, offering low latency, virtually unlimited capacity, and high quality of service. With 5G commercialization in 2019, Qualcomm is now transforming the wireless edge to bring many societal benefits and the promise of massive on-device AI. After enabling several businesses with the power and expertise of 3G and 4G, Qualcomm is set to lead the world to 5G. The company is inventing the technologies of an intelligently connected future, spearheading research efforts for the next global wireless standard, and collaborating with industry leaders to make this future a commercial reality. The Qualcomm® Snapdragon™ X55 is the world's most advanced commercial multimode 5G modem that delivers breakthrough wireless performance for a new era of connected experiences.

From its early work in pioneering CDMA which became the foundation to 3G, to its leadership in driving the evolution and expansion of 4G LTE and Wi-Fi, Qualcomm has been delivering system-level wireless inventions that have fueled the mobile industry for over two decades. This consolidates the company's position as a leader in 3G, 4G LTE, and Wi-Fi that will be significantly essential in the 5G era.