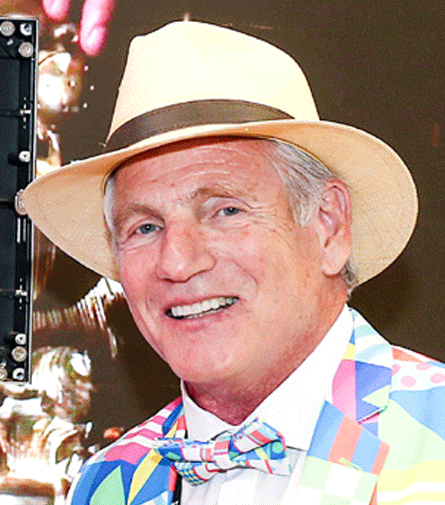 Michael Wiener, CEO
Vanguard LED Displays, a leading manufacturer of LED video displays has experienced tremendous growth by working closely with integrators, consultants, architects, audio-visual companies and general contractors, providing them with innovative solutions and leading-edge technology, to their customers, who include corporations, auditoriums, gymnasiums, shopping malls, churches, stadiums, casinos, government, and military. Vanguard is as an American based, and owned company. They uphold American values of honesty, integrity, and candor. Within seven years of market presence, the organization has become recognized for the highest quality products, technical expertise, responsive customer service, exceptional turn-around times, and impeccable after-sales service. "We are defined by our core values of stellar service, timely communication, and responsiveness," remarks Michael Wiener, CEO of Vanguard LED Displays.
In 2013 the innovation-oriented company invented the Rhodium Series, a 16:9 native aspect ratio LED video display. Video is shot in a 16:9 native aspect ratio. Up until that time, all LED cabinets were square, and as a result, all images had to be manipulated to fit a square cabinet. The 16:9 native aspect ratio Rhodium display allows the video to be presented exactly as it is shot.
Next, in the line of products is the Axion fine pixel pitch 16:9 aspect ratio LED Video Display Series, a fully front serviceable cabinet with no internal ribbons and no external cables, making it ideal for wall mounting.The Axion Series won Best in Show at InfoComm 2018.

Vanguard's sturdiest cabinet is the Tungsten series which features a raised frame to protect the bottom edges of the modules as well as corner protectors, the two most damage prone part of a video display. To shield the LEDs from the rigors, of the rental market, the modules are covered with GOB epoxy resin making it impact, water, dust, and humidity resistant.

Taking innovation to the next level, Vanguard offers the Cesium Series whose cabinets themselves can flex 22 and a half degrees. The Cesium Series can be used to create decorative curves and ribbon effects.

Vanguard just won Best in Show at InfoComm 2019 for its P 0.93 Chromium Series featuring Chip-On-Board (COB) technology. In COB very fine LED chips are attached directly to the PCB board and then are encapsulated in an epoxy resin. This technology allows for stable pixel pitches below P1. They expect to introduce P 0.7 within a few months. This cabinet is impact, water, dust, and humidity resistant. "Vanguard LED Displays, as our name implies is always at the forefront of new technologies in the LED video display market," extols Wiener.

Every LED video display is unique in that each customer has different needs that must be fulfilled. With customer satisfaction being the company's number one priority, Vanguard likes to be involved from the pre-planning phase to fully understand a client's requirements and for the customer to take advantage of Vanguard's experience and expertise in order to provide the best possible solution. Basic information will include whether the display is indoor or outdoor, how far will the viewers be from the display in order to determine the correct pixel pitch, and will the display be hung, wall mounted, or ground supported. Will live feed be a factor? The decision of the right camera to use is a critical one as it will affect latency and moire. Refresh and scan rates determine the choice of IC drivers. The appropriate receiving cards will allow for custom gray scales. Based on the input from the clients, Vanguard will create a custom solution, and CAD and electrical drawings of the installation. Chris Allgood, the Technical Director of The Ark Church, says, "From the beginning, Vanguard had unique products. No matter the issue, they have stepped up and helped us without even asking. We are, and we will be Vanguard customers for a long time."

To set themselves apart from the competition and to stand behind their claim that their products are of the highest quality, Vanguard offers a five-year warranty and five percent spare parts.

Vanguard recently opened up a rental division with over 2000 rental cabinets for the intermediaries who rent to the end users. Vanguard's military division has TAA approval for three of its displays and is therefore permitted to sell their products to any level of the American government. Vanguard is about to introduce the revolutionary Terbium series where for the first time, LED displays will be placed inside a dome for simulation applications.